The Easy Way to Get Rid of Back Pain, Get Healthy & Stay Productive
Is back pain from slouching, working long days on a desk, scoliosis or kyphosis a part of your daily life?
Do you want to know a simple way to get rid of that that's backed up by orthopedic science?
Make your feel confident and younger
Recover mobility and strengthen the muscles.
Realign your vertebrae to their proper position.
Eliminate upper and lower back pain, neck pain.
Minimize stress and bring more calm into your life.
Reduce slouching, hunching and slumping by correcting your posture.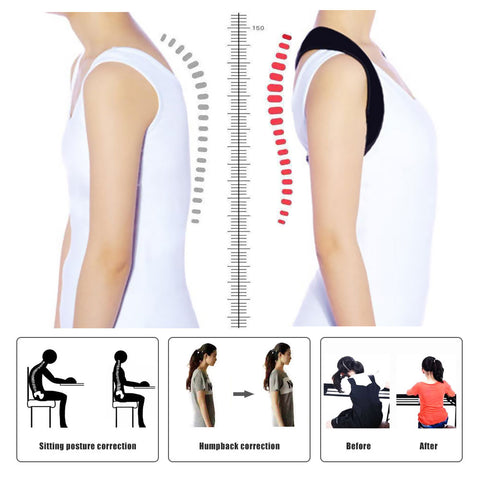 A Taller, Healthier, Mightier YouWhat are the results of using our back brace posture correct?
Your muscles start working on their own, correcting automatically your posture
Your feel healthier and way more confident
You are free of chronic pain that keeps you back from being productive and enjoying your day
Comfy & Adjustable
Our design focuses on delivering superior comfort with its Neoprene fabric construction that's breathable & an adjustable design that allows you to find the sweet spot that's right for you.

Highly Durable
Neoprene is a material that can withstand daily, heavy-duty use without tearing or wearing out. When paired with high-end stitching, our neoprene brace delivers unparalleled resilience.

For Daily Use
Wearing it for about 2-3 hours a day is definitely correct supports posture.
By withstanding the discomfort caused by postural breakdown, such as stiff shoulders, lower back pain, metabolism and muscle weakness, headaches caused by nerve compression, it can play a role in improving support.