Upper Back Posture Corrector for Women and Men
ZSZBACE Adjustable Back Brace Is Here For You!
Good posture gives the impression of serenity and solemnity; If the posture is not correct, you will not only look listless, but also impact spine and compress nerves; Also, sitting with bad posture for a long time can cause back and shoulder pain, and ultimately affects physical health.
Why You Should Choose ZSZBACE Back Brace?
Two metal plates are along the axis of your back spinal to provide effective support;
Moulds itself perfectly to the body contours, especially in the critical underarm area;
Adjustable shoulder and waist belts enable it to shortened easily to fit most men and women;
High-density sponge and lightweight soft padding give your back comfortable protection with no burden;
This back brace can be worn invisibly under your clothes which enables you put it anywhere even in work, school.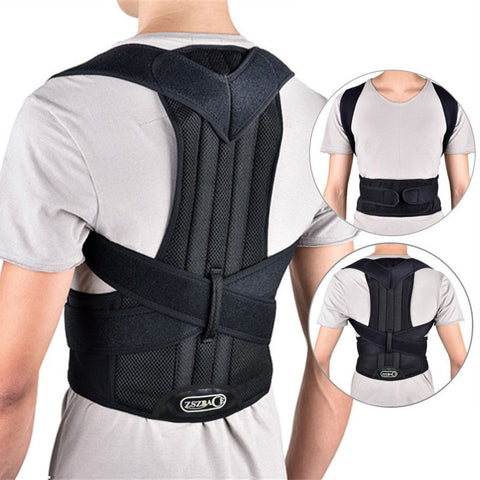 Wear It Anytime and Anywhere
This posture corrector back brace with maximum comfort in mind so you can easily wear it at work, while driving, at home, working outside, or even during physical activity!
You only need to wear the posture support brace for 30 minute a day for the first week to start feeling the amazing benefits.

Posture Corrector for Both Women and Men
The back corrector quickly straightens your shoulders and back. A method of quickly stopping slouching and crouching when sitting with rounded shoulders on the table.
Features an adjustable shoulder strap, suitable for teens and adults, men and women.
Help you build a better posture in 3 Weeks:
-- 1st Week -- Adaptation Period:
First couple of days, wear it for 15~25 minutes only, then add 20 minutes every day;
-- 2nd Week -- Adjustment Period:
Avoid over-tightening the brace, and keep wearing the posture corrector 2 hours each day;
-- 3rd Week -- Retention Period:
Your back and shoulders muscle memory will works and your bad back posture will be gradually corrected.